You've heard of the Mobot?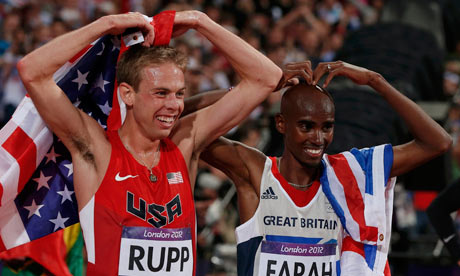 The Mo-bot, as performed by Mo Farah and his training partner Galen Rupp after they won gold and silver respectively in the 10,000m. Photograph: Phil Noble/Reuters
When
Mo Farah
and then Usain Bolt performed it before tens of thousands of cheering fans, the so-called Mobot became the object of worldwide speculation. What was this gesture, asked armchair critics, that provoked such delight? A symbol of Olympian greatness? A gesture of self-declared genius?
The perhaps disappointingly mundane answer, however, lies in a television program. During an episode of Sky1's A League of Their Own, Farah was
told by host James Corden
that he needed a move with which he could celebrate Olympic victory. And it was the BBC TV presenter Clare Balding - who would herself go on to become one of the more unlikely stars of London 2012 - who came up with the by-now famous hand-to-head gesture. "I think you should do the 'M' from YMCA, the M for Mo," she said, performing the move to illustrate her point.
Farah, smiling, said he liked the idea. "I'll definitely do it. I'll give it a go," he said, trying out the move with Corden in a mock race finish. The Gavin and Stacey star then put the finishing touches to the invention, exclaiming: "I've just named it. It's only called the Mobot! He's going to do the Mobot!"
Now that I've explained that, let's discuss the celebration that ensued once the Wayzata girls cross country team learned it had become the 2013 NXN Nike National champions. The girls had finished the race, and were all thinking they had come in second place. But that was all changed once it was learned that
Wayzata put all seven of its runners ahead of runner-up Fayetteville-Manlius' fourth.
Wayzata scored 108 points and seven-time champ F-M scored 120. Davis (157), Carmel (182), Monarch (211), Fort Collins (212) and Unionville (214) finished in the top seven. The girls celebrated with a mixture of joy and disbelief. The poster child for this was senior Mary Franke.
Mary Franke caught in a moment of sheer joy. Photograph: Kraig Lungstrom
Hands over her face, heels clutched tightly against her bottom.....once can feel the raw emotion felt by the team, coaches, and family.
And The Mary is born. Send me your own
The Mary photo and I'll post it to this blog entry. You can also Instagram it to
@briankeithmaas. Or Twitter to me using #TheMary.
Lets get it started. Here is one such The Mary.
Graham Maas of Plymouth MN